Almost seven months after their reformation and re-baptism in the scene, rock-turned-pop band Carousel Casualties will launch their EP titled Madison.
This is probably another sweet victory for the roster of Trust The Process, as imagine having two record launching events within just three weeks. And probably, it is another Friday night to remember as bands full of garage rock and soul pop music will dominate the evening with Banna Harbera, Moonwlk, Rob & The Hitmen, Paranoid City, and She's Only Sixteen sharing the stage with Emmie, Jot, Xavier, and Pau.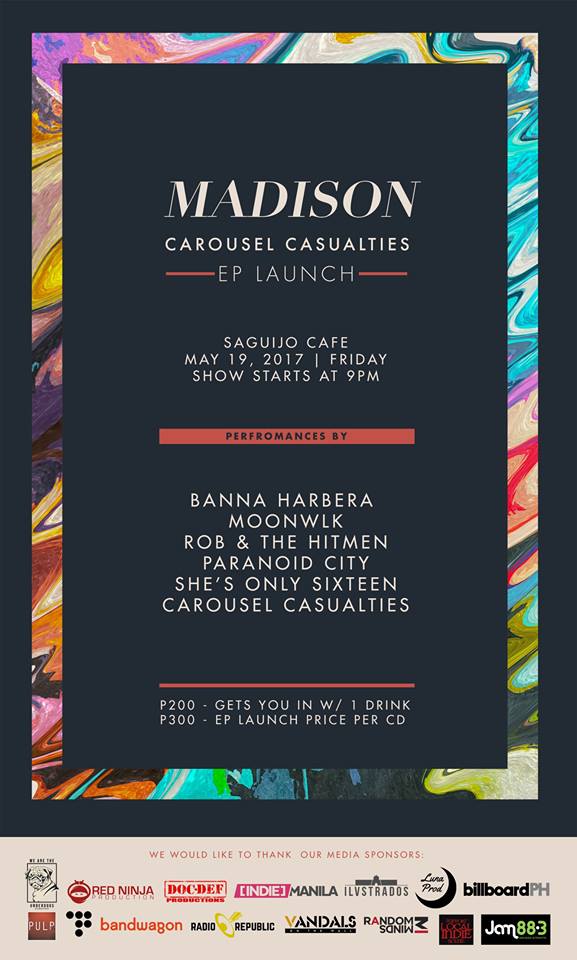 And as the big night of Carousel Casualties approaches nearby, the band released another track (and probably another teaser) of their teaser called San Junipero.
Witness Madison unfold and these dudes and dudettes will definitely see you on the other side. Entrance is 200 pesos inclusive of one free drink. Their EP will be sold at the price of 300 pesos for that night only.
Author: slickmaster | © 2017 The SlickMaster's Files