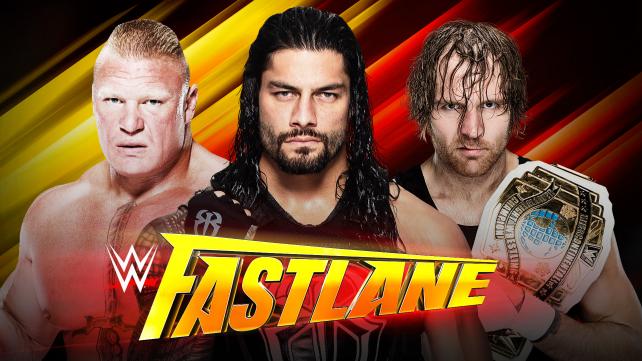 dailyddt.com
It;s the last pay-per-view event before WrestleMania. A pit stop bridging the Royal Rumble and the Show of Shows. However, this are speeding up as stories went full-throttle as we approach the first Sunday of April.
The stage is set on downtown Cleveland, but this ain't the LeBron James show where he will take flight on the fastbreak.
What a way to kick off this pay-per-view with a divas match. At least, they are now getting a chance (pertaining to the hashtag which ignited the Divas Revolution last year)? Perhaps, more than that. It's more than just a typical card where everyone will hype up the crowd. While Tamina and Naomi proved you can't mess with the bad-ass chicks, Sahsa Banks and Becky Lynch had made it clear that they had the "unity."
Yes, All that despite having indifference on their egos prior to this match.
Will this culminate already? Perhaps. We all know where the Boss is heading for in the first place... WrestleMania, with a Divas Championship match against Charlotte!
Verdict: 8.4
Dolph Ziggler has this kind of rep that kicks off a PPV as a performer. He's really as awesome as fuck, win or lose.
Now he moved a rank higher, his IC title match with Kevin Owens was as exceptionally-fucking good as it gets. Mind you, if not for AJ vs. Y2J, it would have been the match of the evening.
However, as much as this technical brawl is concerned, DZ was not introduced properly. He's a hometown kid in the first place. Why, Lilian Garcia, for damn sakes, did you forgot he hailed from Cleveland, Ohio? And heck, why is the champion introduced first? This is my problem with title matches that aren't intended for either Divas or WWE World Heavyweight. They appeared secondary or a class inferior.
Give KO a deserving credit. He improvised his finisher, proving that he doesn't need to push his opponent to the top rope for a very emphatic ending.
Verdict: 8.7
Six man tag team match showed how the old schoolers can school the new grads like The Wyatt Family. Certainly, Ryback seemed to regain his old sheer self when he was a power (not just big) guy against John Cena.
But quite far to notice, how's Luke harper after that shell-shocked? Looks like he's legitimately hurt.
However, I have to agree with Stan Sy for this. Where they will go? We thought they are gunning after Brock Lesnar? This faction, previously feared sans Brawn Strowman, turned out worse as if they hit the proverbial wall. They even looked much powerful than the 2014 Authority when they vent their frustrations on the Beast Incarnate.
Well, we could only hope they could get a win on WrestleMania; but don't tell me they will act like jobbers when they faced off the Social Outcast (oh, no!). Please, let them have a shoving contest against the League of Nations!
Verdict: 6.7
Brie Bella had a Cinderella-like story only have an abrupt ending out of nowhere. Perhaps, a very emotional fight as she might retire soon. That way, she might have been stepping down for contention on the Divas championship.
As much as I liked how she gave tribute to Daniel Bryan and Nikki Bella on her moves and apparrel, this has been one of the best and toughest fights she had executed with. But injury really killed two things: her chances of snatching the title, and her overall performance (specifically, on how she would tell the story of being the 'yes' woman of DB).
As for Charlotte, her gimmick is getting stale. I get it: she's a Flair, which means she dispatches dirty tactics along the way. But isn't it time to send the elder Ric backstage? There isnt' really much significant on his presence right there. Well, unless he leveled himself to the likes of Paul Heyman or Tamina Snuka.
Verdict: 7.5
AJ vs Y2J is definitely one for the books. This should fall as one of the best matches in the E for 2016 Their rubber match appeared like what has been a typical old school feud for wrestling. All that despite having no total-clear distinction of roles. At some point, both people acted like those athletes displaying their "sportsmanship"; and somewhere along the way, they exhibited heelish tactics.
Though, it was quite obvious that for a certain time, Chris Jericho displayed villainous actions while AJ Styles made it clear that he was a babyface who never backs (and cries) down like a drama actor.
With the Styles Clash losing its effectiveness, I think AJ shouldn't had pin Jericho. The next question: is the international superstar/former hottest free agent about to unleash another curtain-caller? Something that fans from the other leagues might not even noticed closely.
We can only find out soon. He looks like he was groomed to be a submission player than a typical wrestler.
Verdict: 9.1
The Cutting Edge Peep show turned out to be a heck nostalgic act at all. Right, they had a good start, but the finish seemed flat. We knew for a moment, The New Day acted like faces. But then, it really appeared like remained to be seen as these two did not even crossed paths with each other again after that segment. Well, I wonder.
Verdict: 6.1
R-Truth vs. Curtis Axel was like a hype-killer for the main event. Something that tells you like, "Chill. We got you covered."
But fuck this shit, that looked like a more of a bathroom break either. You barely wish this match happened earlier, right? It's not kinda fair to put earlier in place of the US title because that's actually a strategy for people to patronize the program itself. Imagine if all title matches were putted out there. That might make the pre-show nothing but garbage.
And, that, by the way served as a prelude to a minor story soon!
Verdict: 3.9
The main event proved something, like how Roman Reigns, though poised to win the game and take away the title from Triple H, was not the same Roman Reigns we knew from early 2014 and late 2015. Heck, even Dean Ambrose showed how things should be done against Brock Lesnar. That looked like a higher and honorable prize than clashing with Hunter for Mania.
Quite funny how Ambrose wanted to hit Lesnar with a German suplex. A comical twist on how their feud unfolds during the match.
But puns aside, this should have been Roman's first breakout game, but with the two scuffling their shits on each other, it's like he was literally taken out of equation.
Oh, I get it. He and Ambrose displayed shades of The SHIELD when they double powerbombed Lesnar to announce tables. Not one, but two announce tables! But that's teamwork. Aside from that, the juggernaut was neturalized by Dean most of the time.
And as for the finish, I would understand if he chased off Lesnar and pin him at the end. That will prove hos Roman can beat -- and had beaten Brock Lesnar. Maybe because the Beast Incarnate was totally tamed by those chair shots by Dean; thus, a complimenting account on setting up a chapter for Mania.
Verdict: 6.5
Roman might have won the game. And that exhibited what Fastlane was all about. The problem, for the next six weeks (or shorter, as of writing time), he has to be likened to that kind of image when he and HHH squared off come WrestleMania time.
Somehow, the event ran well, especially at the first two hours. Maybe, the imbalance of the cards have screwed the evening. But on a bigger picture, WWE Fastlane was on its second installment. Give them a break.
And also, Roman.
The Verdict: 7.3
Author: slickmaster | (c) 2016 september twenty-eight productions